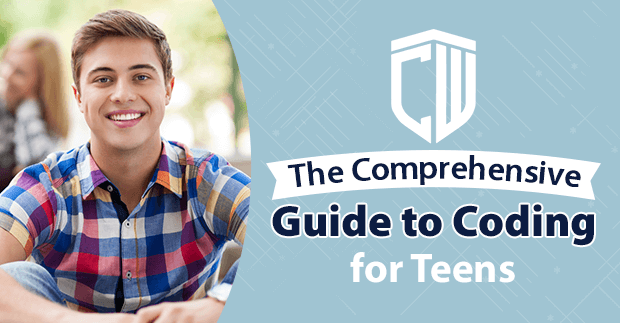 Coding is everywhere, from the fitness tracker on your wrist to the navigational system on an airplane.
And that means coding is a huge opportunity for teens. If they study it now, they'll be able to pursue careers in almost any industry.
But getting them to that point is the tricky part, with many parents wondering why teens should code, what coding languages teens should learn, or how to encourage their teens to code. The following guide answers all three questions, in 13 sections. You can navigate to the section most pertinent to you using the anchor text below.
Summer programs now available! 3-week summer classes are starting June 8, July 6, and August 3.
See details and enroll to save your spot.
Benefits of Coding for Teens
Coding for teens results in more than a basic knowledge of coding languages or the ability to build sound Minecraft structures. Coding for teens produces real benefits, such as enhanced critical thinking and problem solving. Those two advantages, plus five others, receive attention below.
High School Success
Most middle and high schools require students to earn five credits of computer science (CS). Coding classes, clubs, and programs ensure teenagers learn the languages and skills needed to complete their schools' scholastic requirements. Plus, students can use their newfound knowledge and study skills in other CS classes and academic pursuits.
Competitive Advantages on College Applications
Coding for teens also awards competitive advantages, particularly when applying for college or an internship. The classes and courses reveal a student who not only weds theoretical knowledge with hands-on experience but also possesses high levels of problem-solving skills and persistence. Post-secondary institutions — future employers, too — find the qualities so compelling that they often reward teenage applicants with an early acceptance letter.
Soft Skills
Coding for teens can also produce critical soft skills, such as the persistence mentioned earlier. Persistence is important because it urges teens to try again and to endure with a coding problem even when it's complex and frustrating. But coding for teens usually develops more than an ability to persist. It often yields soft skills like communication, collaboration, and leadership, too. These skills are as critical as persistence since developers, analysts, and coders rarely work in isolation. Most of the time, they work with others and are required to communicate, collaborate, and sometimes lead.
Computational Thinking
Besides generating soft skills, coding for teens produces computational thinking. This skill refers to a teen's ability to collect data, make connections among the data, and analyze the data to determine the actual problem. They then take the still-complex problem and break it into its smaller, solvable components. The skill trains teens to distinguish between relevant and extraneous facts; reason through problems logically; identify, monitor, and analyze trends and patterns; and distill complex ideas into simpler forms.
Creativity
Coding for teens also encourages creativity because, once a teen analyzes a problem, they must decide how to solve it. And that's where the creativity comes in. Within the safe context of a coding class or app, teens are empowered to ask questions, take creative risks, and apply their knowledge of coding languages in new, unique ways.
Problem Solving Abilities
Coding for teens encourages computational thinking and creativity with the end goal of problem solving. The third element is a necessary addition. Computational, or analytical, thinking breaks a problem into its parts. Creativity devises as many solutions as possible to the problem. Problem solving looks at those solutions and decides which ones are feasible based on resources like budget, infrastructure, knowledge, and time.
Career Opportunities
Finally, coding for teens opens teenagers to a diverse and better-paying job market. A short list of today's coding careers includes aeronautics, art and design, data analysis, engineering, information technology (IT), mobile development, product design and development, project management, the sciences, software development, user experience (UX), and web development. That list will only grow. The United State's Bureau of Labor Statistics predicts "computer and information technology occupations" will grow by 13% from 2016 to 2026, producing nearly 560,000 new jobs. And as for better wages, MarketWatch reports many of the jobs that require some knowledge of computer coding pay $57,000 or more per year.
Your child can learn to code from home.
Try our live, online coding classes for kids risk-free.
Coding Languages Teens Should Learn
Many coding languages exist, which makes it hard to choose ones to study. CodeWizrdsHQ recommends teens learn the programming languages commonly used today, such as the following nine. Teens may want to emphasize in one language over another, but they should familiarize themselves with all of them. By learning different coding languages, they will be able to select the right language to the problem they're solving.
Your child can learn to code from home.
Try our live, online coding classes for kids risk-free.
Coding Game for Teens
Several coding games for teens are available today. But if you desire the best of the best, explore the following eight. They'll engage teens and foster their interest in coding. The games will also establish critical thinking, creative problem solving, and collaboration skills.
Coding Apps and Tools for Teens
Numerous coding apps and tools exist. But you can streamline your teens' search with the list found below. The apps featured on it are ideal for getting teens excited about coding; introducing them to coding principles; and, in some instances, teaching them how to use code to solve problems.
Codea
Codea aims to let teens "touch their code," literally. An iPad application, teens can use Codea to create games and interactive simulations. Codea relies on the programming language Lua. While not a common language, it teaches teens essential skills for working with code.
Hopscotch
Hopscotch, available on iOS, focuses on game creation first and code second. Doing so helps teens learn how to code, often without realizing it. It also builds their excitement for code and creation as they watch their ideas come to life.
Thimble
Mozilla's Thimble is an online code editor focused on website development. Teens can use the tool to not only create and publish web pages but also learn essential languages like JavaScript, HTML, and CSS. Besides working on their own web development projects, teens can "remix" existing ones. Some of the projects, like the "HTML Burger" or "Homework Excuse Generator," are funny and designed to engage teens in coding. Others, like the ones about security and privacy, are more serious in nature.
Scratch
Scratch, supported by MIT, is a coding tool and community in one. Teens who use the app can program interactive games, stories, and animations. They can then submit their creations to the online community to talk through challenges, receive feedback, and find teammates.
Stencyl
Stencyl employs a drag-and-drop programming tool, meaning teens can create and publish games without getting lost in a coding language. As they progress, they can turn on the app's coding abilities in order to work with actual programming languages.
Tynker
Tynker may be the most robust tool on this list. It starts with "visual blocks," a bit like Alice or Stencyl, before moving into coding languages. Teens can use the tool for a variety of projects, such as building apps, modifying Minecraft, or coding drones.
Your child can learn to code from home.
Try our live, online coding classes for kids risk-free.
Coding Kits for Teens
Many of the coding kits listed here offer a dual opportunity: building robots and teaching teens to code. Some of the kits entail actual coding while others emphasize coding fundamentals and critical thinking skills.
Bitsbox
Bitsbox is a subscription box that teaches teens computer science principles like coordinates, functions, operators, and parameters. Each monthly box features a new CS concept along with a hands-on project devoted to it. The subscription is affordable, ranging from about $16 a month to $40.
CanaKit Raspberry Pi 3 Complete Starter Kit
An Amazon's Choice product, the CanaKit is designed for the do-it-yourselfer. The kit comes with a quick-start guide, but teenagers are on their own after that. For best results, the CanaKit should be paired with one of the Raspberry Pi books mentioned later in this guide.
CoDrone Pro Kit
The CoDrone Pro is meant for the teenager who loves flight and programming. The kit includes everything your teen needs, from the drone itself to the controller powering it. As teens learn programming basics like loops, conditionals, and variables through online tutorials, they apply the concepts to the drone, giving it a literal lift-off.
Kano Computer Kit
The Kano Computer Kit guides teens through building a mini-computer. Once built, teens can use the device to code art, music, and games with the Python and JavaScript languages. The Kano also connects to an online community where teens can collaborate and compete with other Kano users.
LEGO Boost Creative Toolbox
The LEGO Boost Creative Toolbox includes 840 LEGO pieces so that teens can build and program one of five robots. The combination teaches teens how to approach building products and solve problems, such as getting their robot from Point A to Point G.
littleBits Base Kit: Rule Your Room
llittleBits proves the smallest object can be the mightiest. Teens learn engineering and problem solving by turning everyday objects into "interactive inventions." The kit contains instructions for eight inventions and one challenge, which should all inspire teens to create their own littleBits designs.
Piper Computer Kit
The Piper Computer Kit requires teens to build and code a computer before they can play a Raspberry Pi version of Minecraft. They can then enhance their computer game with different types of "power-ups." This kit features a higher price tag, but it's worth consideration since it instills creative confidence and technical expertise.
Coding Gifts for Teens
If you wish to encourage a teen to code with a birthday or Christmas gift, consider purchasing one of the following items. Some provide fun for the whole family, as in the case of the Code Master board game. Others involve robotics and programming, giving teens an appetite for hardware and software design, engineering, and application development.
Anki Cozmo Robot
The Anki Cozmo Robot may remind teens of WALL-E, the beloved Pixar robot. With Cozmo, teens use the Code Lab to program the robot to perform tasks and complete objectives. As teens interact with the robot, it gets smarter, showcasing new personality traits, skills, and games.
Bloxels Build Your Own Video Game
Mattel's Bloxels integrates the physical and digital worlds with "Build Your Own Video Game." Teens initially use designs included in the kit to create games and then "digitize" them with the Bloxels Builder app. Once they're familiar with Bloxels, they can use the game board, color blocks, and app to build and code their own games.
Code Master Programming Logic Game
Code Master is a traditional board game with a computer science twist. Teens and parents who play the game learn programming logic, as well as develop computational and problem solving skills. With 10 maps and 60 levels, the game play changes frequently, which keeps teens motivated to learn and win.
Code: On the Brink
Code: On the Brink places teens in the role of programmers. Their objective: Be the first to guide their robot from the starting point to the finish, all while working within certain fixed requirements. The game tests teens' understanding of programming concepts. It also unleashes problem-solving skills as teens progress through 40 challenges that range in complexity and difficulty.
Evo App-Connected Coding Robot
The Evo robot's simple appearance belies strong performance, as evidenced by top reviews from publications like TechCrunch, Wired, and PC Magazine. It features Bluetooth Smart, LED lights, and a variety of sensors. Teens can affect those items through OzoBlockly, Evo's programming platform.
Meccano-Erector M.A.X.
M.A.X. combines robotics and a programming platform. Teens can use the platform, plus the robot's built-in artificial intelligence (AI), to create a one-of-a-kind robot that responds to their prompts. When they tire of the traditional M.A.X., they can reassemble its 332 parts into another robot.
Sphero SPRK+ Robot
An Amazon's Choice product, the Sphero SPRK+ aims to entertain and educate. The robot comes equipped with the Sphero Edu application, which allows teens to improve their coding skills. Teens begin with simple commands before moving onto block-based programming. Eventually, they move from coding blocks to writing in JavaScript.
Wonder Workshop Cue
The Wonder Workshop Cue looks like an alien robot with its glowing lights, tripod base, and head. Teens first get acquainted with the robot through its emotive AI. They then move into adjusting the robot's behaviors with games and challenges that start with block-based programming and end with JavaScript.
Your child can learn to code from home.
Try our live, online coding classes for kids risk-free.
Coding Books for Teens
Many books about coding are geared toward adults with a working knowledge of computer science and coding languages. Others veer the opposite direction, helping young children learn how to code. The books listed here differ. They're meant for older kids, ages 10 and up.
3D Game Programming for Kids: Create Interactive Worlds with JavaScript, Second Edition
This updated version of 3D Programming for Kids encourages teens to move from playing games to creating them. This book includes revised examples to explore, as well as new 3D effects to try. The book works alongside a code editor so that teens can practice what they're learning.
Adventures in Raspberry Pi, Third Edition
Adventures in Raspberry Pi complements the Piper Computer Kit mentioned earlier. However, teens can use this book with any Raspberry Pi 3. The book first familiarizes readers with Raspberry Pi, and then shifts into programming languages and projects. By doing so, teens master programming principles and languages, empowering them to apply their newfound knowledge to their inventions.
Coding Games in Scratch
An Amazon Bestseller, Coding Games in Scratch employs fun illustrations and easy-to-follow instructions. Teens who follow the book's examples will build games and puzzles, move an object through a maze, and create animations. Because the book is easy to digest and use, teens will gain confidence in their coding abilities, more than likely progressing toward more advanced programming concepts and projects.
Coding iPhone Apps for Kids: A Playful Introduction to Swift
Written for 5th and 6th graders, Coding iPhones Apps for Kids may be one of the best introductions to Apple's Swift. The book begins with the basics before releasing readers into the "Xcode playground," an online environment where teens practice what they're learning. Once they work through the fundamentals, teens can experiment with building original applications and games.
Hello World! Computer Programming for Kids and Other Beginners
Hello World! is an approachable book that anyone 12 and up can read and understand. The book uses illustrations and examples to explain concepts and focuses on the Python language. It also features practice questions and exercises to guarantee comprehension and subject mastery.
How to Code: A Step-by-Step Guide to Computer Coding
In How to Code, teens learn basic programming concepts like loops, variables, and selections. The book then moves into different coding languages, looking specifically at Scratch, Python, HTML, and JavaScript. The book features playful robot characters, too, to keep readers engaged in and entertained by the subject matter.
HTML & CSS: Design and Build Websites
HTML & CSS: Design and Build Websites is an Amazon Bestseller, and it's an excellent resource for the teen wanting to get into web development. The book avoids the usual dry-and-dusty method of teaching people to code, employing colorful illustrations and accessible instructions. Teens can work through the book from beginning to end or jump to the topic most relevant to them and their coding project.
Python for Kids: A Playful Introduction to Programming
Python for Kids makes learning Python easy and entertaining. The short book employs humorous illustrations and experiments with programs featuring "ravenous monsters, secret agents, and thieving ravens." Each chapter features a programming puzzle to ensure teens master the subject they're reading about.
Super Scratch Programming Adventure!
Super Scratch Programming Adventure! complements the Scratch coding app, guiding teens through programming principles and experiments. Teens should enjoy the book since it employs a comic-book style and includes projects inspired by classic arcade games.
Your child can learn to code from home.
Try our live, online coding classes for kids risk-free.
Coding Camps for Teens
If you want to introduce teens to coding, consider sending them to a coding camp. These camps usually last a week, although some are shorter and some, longer. Each camp teaches teens about not only programming but also the skills needed to be a successful programmer, developer, designer, et cetera.
Apple Camp
Apple started offering coding camps at retail locations in 2016. To see what's happening at a nearby Apple store, check out the daily calendar. It showcases a variety of events, such as how to take quality photos with an iPhone.
CodeWizardsHQ
CodeWizardsHQ online coding camps allow teens to access professional instruction and guidance from any networked computer. The camps feature courses in different programming languages and prioritize hands-on learning. Throughout the camps, teens receive awards for completing assignments and eventually earn a certificate of completion.
Digital Media Academy
Digital Media Academy works with local colleges and universities to provide summer coding camps for teens. Participants learn about computer science, as well as other subjects. As an example, a typical camp includes courses in game design, robotics, 3D printing, filmmaking, and animation.
Google for Education: Computer Science Summer Institute
Google for Educations offers its Computer Science Summer Institute (CSSI) every year. It's designed for high school seniors who intend to pursue studies in computer science, with preference given to underrepresented students in the field. CSSI lasts three works and gives students an immersive, hands-on experience in computer science, coding, and software engineering.
iD Tech
iD Tech partners with colleges, universities, and schools around the world in order to bring intensive summer programming to teens. In Texas, iD Tech is found in major metropolitan areas like Houston, Dallas-Fort Worth, and Austin. Its summer camps feature lessons in coding, game development, design, and robotics.
Microsoft's DigiGirlz High Tech Camp
Part mentorship and part workshop, Microsoft's DigiGirlz empowers high school girls to dream about a job in the tech industry. The High Tech Camp spans several days and introduces attendees to careers available to them at Microsoft. It also features coding workshops, which instills confidence and motivates girls to choose a tech-related major or career.
University of Texas at Austin
The University of Texas at Austin offers three summer camps: First Bytes, Code Longhorn, and The UTCS Robotics Camp. The first two are free, weeklong camps; the third involves a fee. First Bytes is for high school girls only while the other two camps are for teen boys and girls.
Youth Code Jam
Youth Code Jam, based in San Antonio, Texas, offers summer technology camps every year. These camps cover essentials, building skills in computational thinking and creativity. The camps also include hands-on learning experiences so that, by the end of the camps, teens will have created a game, animation, or interactive artwork.
Coding Classes for Teens
It can be hard to find a coding class that coordinates your teen's interests and your schedule. But some exist, including the following four. Some of the classes occur onsite while others happen on your home computer.
CodeWizardsHQ
CodeWizardsHQ offers coding classes on various days and times, making it easy to find a class that fits your schedule. Teens log into the class at the appropriate time to receive instruction from a live instructor. They then work through several problems together before working independently. The lessons build progressively, ultimately leading to internship opportunities.
Sylvan Learning
Sylvan Learning provides Coding for Kids, an in-person coding class for kids in elementary and middle school. The afterschool program emphasizes hands-on learning, teaching coding skills through interactive projects and assignments. Besides learning programming and troubleshooting skills, kids learn to work as part of a team and to share their knowledge with others.
Your child can learn to code from home.
Try our live, online coding classes for kids risk-free.
Coding Courses for Teens
Coding courses are so plentiful that you could spend days looking at search results. But you don't have to. CodeWizardsHQ has looked at the top coding courses available today and distilled them into this short list. Use it to find a course that supports your schedule, budget, and teen's coding needs.
Code Avengers Jr.
Code Avengers Jr. offers a number of online courses for kids of ages 5 to 14. Courses cover specific coding languages, including Python, HTML, CSS, and JavaScript. Other courses emphasize specific applications such as web development and design. Teens take courses from qualified educators, learning from a curriculum that aligns with current school standards.
Code School
Code School provides online video tutorials and programming challenges, keeping teens motivated to learn and apply their knowledge. Code School organizes its online courses along "learning paths" that relate to a specific language or platform, such as Android or iOS. Because of that, teens may want to explore this site after taking an introduction to computer science or coding. The background knowledge will help them decide where to focus their studies at Code School.
CodeWizardsHQ
Because CodeWizardsHQ believes teens learn best through a structured and comprehensive curriculum, new "wizards" begin with Introduction to Programming. Once they complete the 12-week course, they move onto specific languages and types of development. Teens who complete the different coding courses earn the ability to work on real-world projects for nonprofits. Upon completing that project, teens become eligible for a six-month internship through CodeWizardsHQ and participating nonprofit organizations.
Codecademy
Codecademy offers free, interactive coding courses, with a paid option. Codecademy arranges its online courses by subject and language, offering classes about programming, data science, design, Python, Java, SQL, and Ruby. Codecademy's paid options either provide extra support or accelerate the mastery of "job-ready skills."
General Assembly's Dash
Dash is an online course offered by General Assembly, a nationwide organization focused on teaching the skills and subjects required for success in the tech sector. Dash's course emphasizes three coding languages: HTML, CSS, and JavaScript. It's a smart combination since the three often work together during website development projects.
Institute for Mathematics & Computer Science (IMACS)
The Institute for Mathematics & Computer Science (IMACS) offers two tracks, computer programming for 3rd through 9th grade, and university-level courses in computer science and mathematics for 7th through 12th grade. The computer science class teaches computational thinking and problem solving skills alongside programming languages like Java and Python.
Tech Rocket
Tech Rocket, from iD Tech, offers a range of online coding courses for teens, including ones specific to Python, JavaScript, Ruby, and Minecraft. In addition to coding classes, Tech Rocket offers courses in design and game development.
Treehouse
Treehouse offers a free seven-day trial. After that, your options are basic ($25/month) or pro ($49/month). Teens should probably start with the basic package, if only to assure yourself of their interest. As your teen heads toward a college education or career, though, you may wish to upgrade to the pro offering. It awards extra support and insider information about the tech industry.
Udacity
Udacity constantly adds new courses, including ones about virtual reality and autonomous vehicles. Because Udacity offers a wide spectrum of courses, you and your teen will need to look through the catalog to find ones that meet your needs. You can search by category, skill level, duration, and other search parameters. Udacity offers some free courses, but most involve a monthly or annual fee.
Udemy
Udemy is home to more than 55,000 online courses in almost every subject. As with Udacity, you and your teen will need to look through Udemy's courses to discover ones suited to your requirements. Udemy's courses range in price, but, once you pay the fee, your teen receives lifetime access to the curriculum.
Youth Digital
Youth Digital provides online classes in coding, design, and animation. The classes gear toward kids ages 8 to 14, with an emphasis on making the classes accessible to kids with no background in computer science and coding. Youth Digital offers classes on a subscription basis, ensuring teens learn at a comfortable pace.
Your child can learn to code from home.
Try our live, online coding classes for kids risk-free.
Coding Clubs for Teens
Coding clubs provide safe and fun learning environments. In them, teens learn about computer science; apply their knowledge to hypothetical problems; and develop relationships with other students. The clubs often feature a mentorship component, too, which encourages teens to persist with their coding studies.
After-School Clubs
Many schools either provide or partner with external organizations to offer after-school clubs, including ones specific to coding and computer science. To find out what's available at your teen's school, visit with the school office. Its assistants and secretaries usually have a running list of after-school clubs open to students.
Boys & Girls Clubs of America
Many Boys & Girls Clubs of America (BGCA) provide computer science and coding activities thanks to Google's CS First. Google designed CS First for youth ages 9 to 14, with the goal of teaching them to express their ideas through computer code. CS First includes everything BGCA volunteers need to host the class, from lessons plans and instructional videos to physical awards like stickers and certificates.
CoderDojo
CoderDojo, an international club, provides a relaxing and safe environment in which kids can learn to code. Dojos are free to attend and open to kids ages 7 to 17. At the dojo, participants learn to build websites, develop applications and games, and explore opportunities in the tech field.
Local Library Clubs
Many local libraries offer computer science classes. Parents interested in such opportunities should visit with their local library to find out what's available. Many libraries also allow cardholders to check out computer equipment, such as Raspberry Pi kits.
The Clubhouse Network
The Clubhouse Network is an international community of clubhouses. These clubhouses entail a safe and free learning environment where teens from underserved communities can learn about technology. Participating teens also work with mentors, which builds confidence, develops new skills, encourages creativity, and motivates them to seek out new career opportunities.
Your child can learn to code from home.
Try our live, online coding classes for kids risk-free.
Coding Competitions for Teens
Coding competitions deliver inspiration, motivation, and collaboration. The third quality might seem odd, but most coding competitions require a team, rather than individual, effort. As a result, teens learn to work together even as they push toward the completion deadline and a potential prize.
Carnegie Mellon CS-STEM Network
The Carnegie Mellon CS-STEM Network hosts competitions semi-regularly. These contests typically combine computer science and robotics, a timely integration as job opportunities in artificial intelligence and machine learning continue to rise. Some of the competitions emphasize other intriguing technology applications, such as urban planning.
eCYBERMISSION
The U.S. Army hosts the eCYBERMISSION challenge, a competition for 6th, 7th, 8th, and 9th grade students. Participating students form teams of three or four individuals from the same grade-level and state, with an adult team advisor, usually a teacher. The team studies a problem in the local community; selects a Mission Challenge that addresses the problem; and submits the completed challenge in a Mission Folder. Exceptional Mission Folders typically receive state, regional, and national awards.
Google Code-in
Google Code-in is an annual, global competition in which teenagers ages 13 to 17 are introduced to open source software development. Google partners with select open source organizations, and they determine a list of tasks for teens to complete during the contest period. Successful completion of tasks rewards different prizes, along with practical knowledge about coding, documentation, research, and user interface design.
Imagine Cup
The Imagine Cup, put on by Microsoft, is a global competition. Teens form teams and devise technology solutions that shape how people live, work, and play. Teens compete for prizes and, of course, the prestigious Imagine Cup.
Technovation Challenge
The Technovation Challenge forms teens into teams that ideate, build, and sell an app that solves a problem in the local community. The competition occurs every year and is open to girls between the ages of 10 and 18.
Teen Hackathon
Teen Hackathon encourages teens to learn about and apply technology to the real world. Teen participants usually visit with companies to learn about a specific technology. They then apply that technology to their proposed solution. In the final phase of the hackathon, the teens present their solutions; receive feedback, a little like Shark Tank; and earn prizes.
University Interscholastic League (UIL)
The University Interscholastic League (UIL) at the University of Texas at Austin holds annual computer contests on a regional level. The contests comprise two parts, a 45-minute written exam and a two-hour programming contest. The first focuses on the individual's grasp of computer science concepts while the second emphasizes shared knowledge and team collaboration. First-place teams move onto the next level of competition, usually a statewide meet.
USA Computing Olympiad
The USA Computing Olympiad runs contests throughout the year. Participating teens receive four hours in which to complete the current contest. Those who successfully complete the contest can move onto more advanced competitions, including the US Open and the annual International Olympiad in Informatics (IOI).
Coding Programs for Teens
The five coding programs shared here prioritize a particular need within the tech industry. You should use the list to find a program to champion in your local community.
#YesWeCode
#YesWeCode, part of The Dream Corps, seeks to help 100,000 young men and women from underrepresented backgrounds to achieve success in tech. The organization provides several ways to support its goal, including tutoring opportunities, corporate partnerships, and donations.
Black Girls Code
The nonprofit Black Girls Code is on a mission to make "programming and technology accessible to a new generation of coders." The organization's partnerships, local programming, and classes enact the mission, inspiring girls of color who are from ages 7 to 17 to choose a career in tech.
Code2040
Code2040 is a growing community of Black and Latinx technologists. The organization uses service programs, community engagement, and storytelling to ensure everyone, regardless of gender or ethnicity, can lead in technology by 2040.
Code.org Advocacy Coalition
Code.org is one of the largest advocacy coalitions. It spearheads petitions to the government; launches technology projects; and facilitates professional learning programs for middle and high school teachers. The coalition also holds responsibility for the Hour of Code, a grassroots movement designed to give each kid and teen access to an education in computer science and coding.
Girls Who Code
Girls Who Code started as a localized movement in New York City, aiming to close the gender gap in technology through classes, careers, and community. It now boasts a presence across the nation, giving girls the tools and skills they need to compete and lead in the tech market.
It's time to teach teens to code. Get started today by either exploring a class, course, or camp or purchasing a book, kit, or gift. Anything you can do to get your teen excited about coding will benefit them in the long run. They will become computational thinkers, creative problem solvers, dedicated collaborators, and innovative leaders—not only in the tech industry but also the world.