Apply Online
Fill out our simple online application with your proposal on how you think you can get the word out about CodeWizardsHQ. You don't need to have a blog or website to apply. Anyone with interest and time can be successful as our affiliate partner.
Amazing Content
Save time and money on content creation by linking to CodeWizardsHQ blogs, webinars, and resources that your audience will love too. We make this process painless by providing you with beautifully designed marketing materials, wherever you want to share.
24/7 Support
Get priority support at any time via email. You'll get a dedicated Affiliate Manager, access to partner education, and exclusive tools that can help you grow your audience. Our partnership and marketing teams will work together with you to ensure maximum benefits.
Lucrative Commissions
Earn $50 for each student who enrolls with your unique referral link, and up to $250 in bonuses monthly. To maximize your earnings, each referral will be nurtured to help them transition to a completed enrollment by our ops team!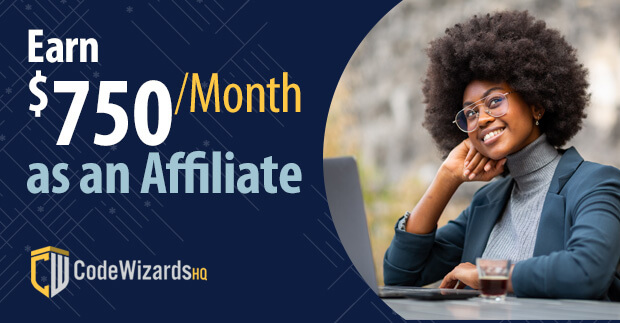 Our Reviews Speak for Themselves
Questions? We Are Here to Help.
Answers to some common questions.
What is the affiliate area?

The affiliate area is where you can manage your CodeWizardsHQ Affiliate Journey. Learn more through this educational video.
How much money can I make? Are there bonuses?

Earn $50 for each student who enrolls in the program using your affiliate link. If 5 students enroll using your link in one month, get a $100 bonus added to your payout. If 10 students enroll using your link in one month, get a $250 bonus added to your payout.
How do I get people to sign up with my affiliate link?

Highlight the benefits of our program with your affiliate link.  Put in a good word about us and get our name out there.  Get creative!  People love our program.  Many just do not know about it yet.
Where should I place affiliate links?

You may place affiliate links and creatives anywhere that you think people will see them. You are the expert of your particular information channel.
Are there costs or fees associated with becoming an affiliate?

No there are not. Just promote our programs and get paid for each enrollment that we get through your affiliate link.
How do I get paid?

We require a minimum earning of $250 to pay out your referrals.  We will handle payment on the first of each month.  You may receive payment either through check without any service fees or through PayPal where you incur a 3% service fee charge.
Does CodeWizardsHQ offer resources for their affiliates?

We do! Once you sign up as an affiliate you will have access to a video tutorial of our platform and links to information around current promotions, contests, and other relevant information program information.
Can coupon websites participate?

No, we are not currently accepting coupon websites as affiliate members.